The Value Of Joining i2Coalition as Shared by Members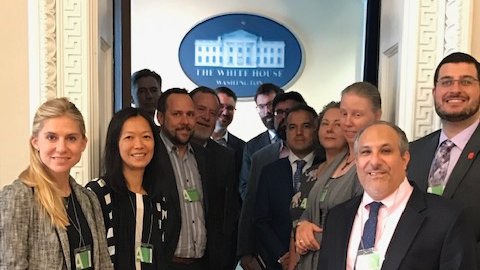 The i2Coalition (Internet Infrastructure Coalition) ensures that those who build the infrastructure of the Internet have a voice in public policy. We are the leading voice for web hosting companies, data centers, domain registrars and registries, cloud infrastructure providers, managed services providers, and related tech. We protect innovation and the continued growth of the Internet's infrastructure which is essential to the global economy.
Our mission is to keep the Internet open as an engine for growth and innovation. We work with Internet infrastructure providers to advocate for sensible policies, design and reinforce best practices, help create industry standards, and build awareness of how the Internet works.
Our members join the i2Coalition for a variety of reasons. Want to learn more? Read all about it directly from several of our members:
"The i2Coalition provides tremendous value in shaping policy and regulatory debates by being in the arena, having a respected voice and providing direct comment in public fora. Their network, connections to regulators and to other industry players members is a value to internet infrastructure organizations looking to have an impact and recognizing the value of working as a team."
~ Melinda Clem, Afilias
"The i2Coalition is an invaluable advocate for internet infrastructure providers, bringing attention to how policies impact not only companies like ours but the small business customers we serve.  We also benefit greatly from the opportunity to collaborate with other i2Coalition members on the common cause of keeping the internet free and open for innovation and growth."
~ Jane Shih, Endurance International Group
"The opportunity to meet on a monthly basis with industry colleagues is invaluable. Our greatest benefit from joining i2coalition is the relationships you develop from being within the group."
~ Nick Nelson, NetProtect (A J2 Global Company)
"The infrastructure of the Internet is massive with loads of companies working in concert to make sure that end-users have a seamless experience online. Because we are so spread out geographically, working in this space can be a bit isolating. The i2Coalition allows those of us in the Internet industry working towards a common goal to be formally joined together."
~ Michele Neylon, CEO, Blacknight
"We support the i2Coalition for all the reasons others have highlighted. We also believe it is an obligation of those of us that reaped benefits from the industry to give back and ensure the industry remains open to new entrants and viable for entrepreneurs of all sizes."
~ Frank Stiff, President, Cheval Capital, Inc.
"The i2Coalition is an invaluable advocate for the internet infrastructure and hosting industry because it brings a unique voice to policy issues that are often outside the radar of other industry associations.  It helps us navigate the intricacies of Washington, enabling us to get before the right policy makers that have a direct say on issues affecting our industry."
~ Mitchell Kilby, Rackspace
"For Tucows, the I2Coalition operates like an outsourced policy team with an effect multiplier.  It's difficult to individually dedicate the time and resources that I2C brings to bear on these issues, and it's essentially impossible to have the same impact as the strong collective voice of the I2C."
~ Graeme Bunton, Tucows
"The i2C has a critical role to play in helping to ensure that the public core of the Internet is protected against any policy and legislative initiatives that could undermine the availability and integrity of the Net. The i2C provides a voice for members whose services form a critical part of the Internet infrastructure layer, in an important era for global Internet policy."
~ Caroline Greer, Cloudflare
"Membership in the I2C provides valuable insight and analysis into the policy debates that shape our industry.  Given the current political climate, it's essential for Internet Infrastructure providers to work together to educate policymakers on our businesses and customers, and how our interests are distinct from consumer technology companies."
~ James Bladel, GoDaddy