Fall 2016 Events
We're looking forward to a busy fall of 2016! We'll be adding events here as they are announced.
---

The WHD.sailing event is designed for owners, founders, and senior executives from the hosting and cloud industry. The goal is to provide a more intimate gathering without the distractions of our major conferences where senior staff can meet to learn about and discuss some of the most important issues facing our industry today.
---
OXS16 Chicago
i2Coalition member Open X-change will be holding two more of their OX Summits this year.
This September 8th and 9th, Open-Xchange is holding an exclusive opportunity for Telco, Cable & Mobile carrier executives and technical leads searching for the information and partners that will help them grow. Open-Xchange will host a special Round-table format designed and moderated by world-class business strategist Jonathan MacDonald.
OX Summit Chicago is free-of-charge, but can only be attended by invite. If you would like to come but have not received an invitation, please contact christian.egle AT open-xchange.com and visit here for more information.
---
Save the Date: DNS Forum
On September 14 & 15, Public Interest Registry, CENTR, LACTLD, i2Coalition, and ISOC-DC will bring together a diverse group of experts in Washington DC to discuss the impacts of policy on DNS (domain name system) technical operators.
Schedule
Wednesday, September 14
8:00 – 9:00               Coffee & Registration
9:00 – 9:15               Welcome and Introduction
9:15 – 10:45             Panel 1:  The Impact of Privacy Regulations and Requirements on Technical Operators and Providers
10:45 – 11:15           Break
11:15- 12:15            Panel 2: Content – Policy Approaches and Technical Implications
12:15 – 2:30             Networking Lunch
2:30 – 3:30               Panel 3: Engagement in the Evolving Multi-Stakeholder Internet Governance Model
3:30 – 4:00               Day 1 Wrap Up
Thursday, September 15
8:00 – 9:00               Coffee & Registration
9:00 – 10:30             Panel 1: Building Trust Online: Security & Encryption
10:30 – 11:30           Closing Keynote
*A final Agenda including confirmed speakers coming soon.
---
i2Brew Portland
Join us for another i2Coalition i2Brew! i2Brew Portland will be held at Tugboat Brewing Company in Portland October Wednesday October 5th, immediately following cPanel Conference 2016!
---

cPanel Conference 2016: WEIRED
i2Coalition founding member, cPanel, annual conference will be held once again this October (3rd-5th) in Portland, Oregon. Fellow i2Coalition member, Michele Neylon, of Blacknight Solutions will be headlining. This year's theme is the culture of weird, the experience of wired.
Nothing innovative was ever produced from following the rules or staying within the lines — doing the same thing everyone else does — or even doing the same thing you've done before. In web hosting, as in life, sometimes you have to be different, strange, and even downright weird. Because it's only when you dare to push the envelope do you create something memorable, shareable — or — worth attending year after year.
An early bird discount is now available.
---
OXS16 Frankfurt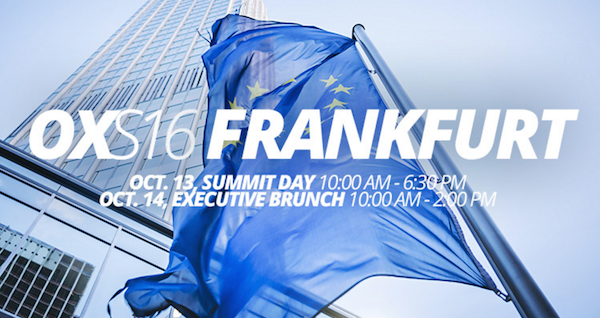 Oct 13-14, Frankfurt, Germany
OX Summit connects the key decision-makers from hoster, telco, cable and mobile carriers to exchange the valued business insight and technology expertise that regional and global providers need to transform their growth.
This is the industry & portfolio showcase that connects ISV's and service providers–who are changing the status quo of legacy Internet models–to share just how important partnerships matter.
Set directly on the banks of the River Main, and within easy walking distance to the train station, the futuristic Westhafen Pier 1 is the perfect venue for the open exchange of ideas.
Full agenda and free registration here.
---
GetGlobal
Never before has a group of thought leaders on global business with this much experience gathered in one place at one time in the United States. You can be there, too. Whether your business is beginning to explore options for overseas expansion or if it is already international but looking to improve performance or enter new foreign markets, you will not want to miss GetGlobal.
Here is what you'll walk away with:
Up-to-the-minute key insights on the hottest markets for your industry
Actionable intelligence that will either increase your revenues through opportunities or through implementing underutilized cost-saving measures
Connections with the industry leaders, CEOs, high level dignitaries, and the experts you need to know to make your expansion a success
World-class experts will provide you with the insights you need to make your business succeed in foreign markets.