Highlights from the i2Coalition 2023 Congressional Fly-In 
The i2Coalition is collaborative by nature. Working consistently throughout the year with Internet infrastructure leaders, legislators, and other policymakers,  we bring a delegation of members to Washington, DC, for our annual Congressional Fly-In to meet directly with Congressional officials, executive branch staffers, members of government organizations, and key thought leaders and policy influencers to educate and advocate for the industry that drives online commerce. 
These are a few highlights of this year's successful, exciting, and productive event.
Connecting with Congressional Representatives
Day one of the Fly-In marked our return to in-person meetings in the halls of Congress that connected i2Coalition members with their elected representatives. Small groups of i2Coalition members fanned out  to discuss—constituent to Congressional member—the policies of the highest priority to Internet infrastructure providers and to explain directly how they impact their businesses. 
Engaging with the EU-U.S. Data Privacy Framework & Federal Privacy Legislation
The second day of the Fly-In included a focus on our number-one trade policy priority: the EU-U.S. Data Privacy Framework. We heard from the senior officials that lead the U.S. negotiations with the EU, and the respected thought leaders in Washington working to help secure the framework's future resilience. This vital transatlantic effort has been the subject of dedicated i2Coalition workshops as well as  frequent updates through our EU monitoring newsletter. We also did a deep dive on Congressional efforts to pass federal comprehensive consumer data privacy and security legislation in sessions with senior Commerce Department professional staff and Senator Ron Wyden's senior team. 
Global Internet Governance and Internet Freedom Conversations 
Day two also provided  i2Coalition members with multiple opportunities to discuss longer-term policy concerns beyond the specific issues we deal with in our various working groups which meet monthly. Together with senior officials from the Commerce Department and the State Department, and invited thought leader colleagues from Europe, we looked into the crystal ball and had an open discussion about the future of Internet governance and the role of Internet technology in sustaining and advancing democratic values around the world.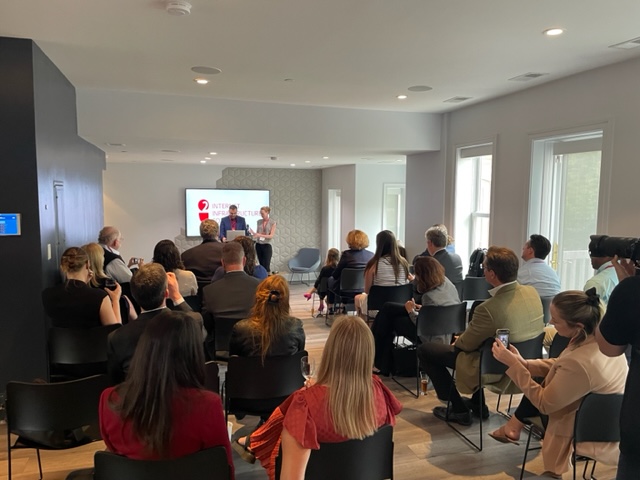 2023 Internet Leadership Awards
We concluded the 2023 Fly-In with the annual Internet Leadership Awards ceremony. These awards are our way of saying thank you to the members of this community who have made outstanding contributions toward making the Internet a better, safer place. Our ceremony to distribute the awards, including inspiring speeches by our award winners, can be viewed here. 
Jon Nevett received this year's Internet Community Leadership Award. A mainstay in the domain name industry, Nevett is the President and CEO of Public Interest Registry (PIR), the nonprofit that operates the .ORG domain. Over the past 4+ years, under Nevett's leadership, PIR created and continues to support initiatives like the DNS Abuse Institute and the Quality Performance Index and has received annual Best Places to Work awards.
The Internet Entrepreneurship Award went to Tim Timrawi, CEO of Sharktech; and Erin Timrawi, Chief Administrative Officer of Sharktech. Over the past two decades, Tim and Erin have developed Sharktech into a cloud hosting provider leveraging open-source and customized solutions that enable people worldwide to connect. The Timrawis believe such services should be competitive, neutral, and cost-effective and that customers should not be locked into proprietary solutions. Sharktech stands for internet neutrality and freedom.
The recipient of this year's Champion of Internet Freedom Award was Jen Easterly, Director of the U.S. Cybersecurity and Infrastructure Security Agency. Before joining CISA, Jen led the firm-wide resilience effort at Morgan Stanley after a lengthy public service career that included serving at the White House twice, helping to stand up the Army's first cyber battalion, and more than 20 years of service in intelligence and cyber operations; including tours of duty in Haiti, the Balkans, Iraq, and Afghanistan. She is also a proud mom, a mental health advocate, a Rubik's Cube enthusiast, and an electric guitarist.
We extend our thanks to this year's award recipients, as well as the members and speakers that joined us in Washington, D.C.
Take an Active Role in Promoting a Free and Open Internet
Besides taking part in the annual Congressional Fly-In, i2Coalition members engage in ongoing working groups to advocate for sensible policies, to design and reinforce best practices, help create industry standards, and build awareness of how the Internet works. Throughout the year, members also receive in-depth monthly updates on Internet policy, including issues that specifically impact their organizations. Please contact us about joining the i2Coalition.